Easy1Up Review- Ponzi Scheme- MLM Scam
Owner and serial fraudster Peter Wolfing has relaunched Easy1Up. 
Today's source material is a marketing video released on YouTube on September 11th, 2021, by Michael Mansell, a frequent promoter of scams.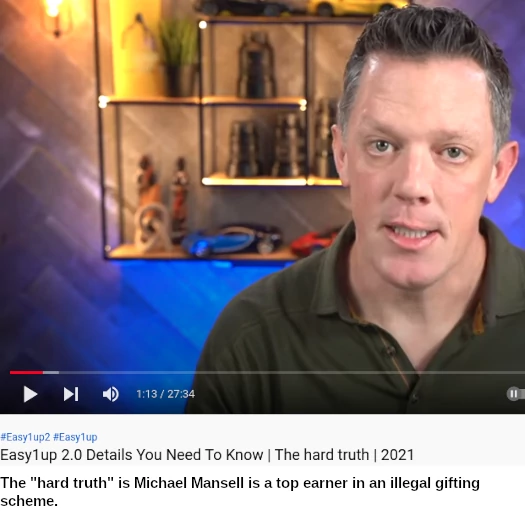 Mansell attributes his success to the initial 2016 Easy1Up gifting scheme, which he describes as a "pivotal component."
He claims that his Easy1Up downline has earned "far over six million dollars" in gifting payments to date.
So, what's new about Easy1Up 2.0?
Not that much. Whereas the original Easy1Up snatched victims' money in USD, the remake supports bitcoin and tether.
According to Mansell, Easy1Up 2.0 was released in late August.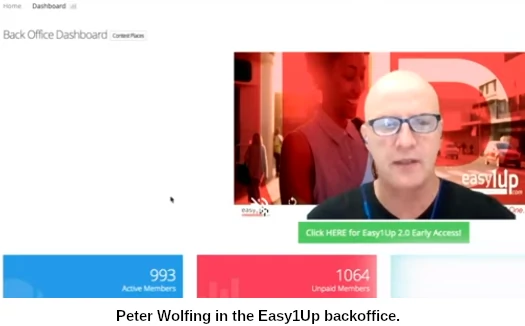 Easy1Up 2.0 retains the original $25 to $500 giving tiers while adding higher $1000 and $2000 tiers.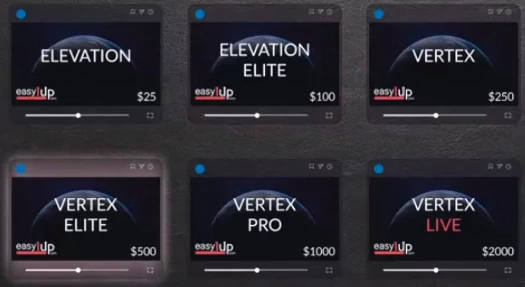 $25 for Elevation tier membership;
$100 for Elevation Elite;
$250 for Vertex;
$500 for Vertex Elite;
$1000 for Vertex Pro;
$2000 for Vertex Live.
To get gifting payments across all six Easy1Up gifting tiers, you must buy-in at the $2000 tier.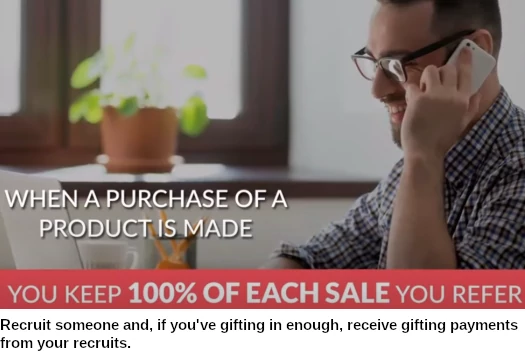 Upgrading is possible, but it will cost more in the long run.
"You can upgrade at any moment. The price represents the total cost of the new product, not the gap between where you are and where you want to go", claims Mansell.
Gifting payments are recorded throughout a uni-level team.
A uni-level pay system positions an affiliate at the top of a uni-level team, immediately below whoever they individually recruit.
If any level 1 affiliates bring in new members, they are automatically put on level 2 and down a theoretically limitless number of groups.
Easy1Up affiliates "pass up" the second, giving money they earn at each tier.
According to the Easy1Up FAQ, this is waived for recruits who donate at the higher tiers.
Easy1Up affiliates with massive downlines are "passed up" for gifting payouts from their uni-level team.
Easy1Up affiliates who donate at higher tiers also get income when individuals in their downline aren't qualified (i.e., they didn't buy in high enough).
All payments within Easy1Up are made between players. Peter Wolfing adds an admin charge to each amount.
Easy1Up integrates various training with each giving tier purchase to seem authentic.
Whatever is tied to gifting money, such schemes are fraudulent business activities.

Should you have any more questions, you may contact the FTC.
Peter Wolfing and Michael Mansell, who claim to be the highest-earning Easy1Up team members, are at the top of the company-wide uni-level team.
They obtain the highest payments from company-wide pass-ups due to their earning positions.
Those who get in the earliest and recruit the most are the ones who make the most money. This is true of any MLM gifting opportunity, as they are all pyramid scams.
"Could I obtain a refund? Your subscription is non-refundable", the firm states.
As with the original Easy1Up and MLM gifting programs, payouts gradually fall as recruiting declines.
Because the number of affiliates at the bottom of the Easy1Up gifting pyramid grows with each new member, logic ensures that the bulk of them will lose money.
Both Peter Wolfing and Michael Mansell live in the United States.
Wolfing had only just established Daily Digital Club in early 2020 when we last checked in.
Daily Digital Club, like Easy1Up, is a gifting scam. Beginning in mid-August — around the time Easy1Up was restarted – traffic rankings indicate a drop followed by an upsurge.
We may deduce that Wolfing is funneling Easy1Up recruits into his other gifting schemes.
At the time of publishing, Alexa ranked the primary traffic sources to Easy1Up's website as the United States (72%) and Canada (22%).
Gifting schemes are unlawful in both the United States and Canada and almost everywhere around the globe.
October 30th, 2021 – Michael Mansell has made his quoted Easy1Up YouTube video private.
I did offer a link to the video, but it has since been banned due to Mansell's fraudulent activities.